The Jefferson Chamber of Commerce aims to grow businesses and promote sustainable economic health in the City of Jefferson. To enable our goals, we choose partners to support shared goals and to generate maximum strategic impact for us, our partners, and our members. These partners include the City of Jefferson, Enjoy Jefferson County Tourism, Jefferson Tourism Commission and Jefferson County.


"The City of Jefferson combines the ease of urban living with the beauty and freshness of a rural environment, complementing the alliance is the convenient proximity to Wisconsin's two largest metropolitan areas. As the county seat of Jefferson County, the community of Jefferson is 35 miles west of Milwaukee and 25 miles east of Madison.
Enjoy Jefferson County Tourism
The Jefferson County Area Tourism Council is a grass roots organization with the sole purpose of increasing tourism throughout the entire Jefferson County area. Our group consists of area Chamber and business representatives and is open to the public. The purpose of our organization is to bring together businesses, organizations, associations and individuals for the development and promotion of tourism in Jefferson County, Wisconsin.
The Tourism Council primarily promotes tourism through an annual printed Guide.  We also maintain an extensive website that promotes the community and advertisers throughout the area.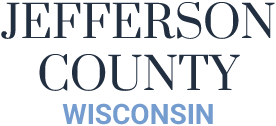 The County Board of Supervisors, with 30 members, serves as the legislative body for the county. There are seven elected officials in addition to the County Board of Supervisors. County-wide partisan elections are held in November. The County Board's members are elected for two-year terms during a spring non-partisan election. The County Board is responsible for the county administrator. The County Board elects a chairman, vice-chairman, and second vice-chairman.
Cities
Fort Atkinson
Jefferson (county seat)
Lake Mills
Waterloo
Watertown (partly in Dodge County)
Whitewater (mostly in Walworth County)